Posted by Ange | 45590 Commentshttp%3A%2F%2Fwww.justtheurbancowgirl.net%2F2012%2F05%2Fwhat-i-ate-wenesday-week-5%2FWhat+I+Ate+Wenesday%3A+Week+52012-05-23+14%3A46%3A44Angehttp%3A%2F%2Fwww.justtheurbancowgirl.net%2F%3Fp%3D4559
Holy moly, is it Wednesday again?!
These kinda sneak up on me.
I'm changing it up a bit this week, party because The Cowboy and I enjoyed an amazeballs dinner on Thursday night for my birthday and partly because I totally forgot to take pictures on Tuesday (having a holiday Monday tends to do that!).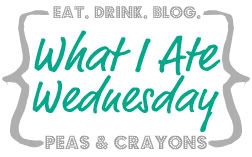 I made a reservation at one of our favourite wine and tapas bars,
Vin Room
.
Given the prices, it's certainly special occasion only, but the foods is truly delicious.
Vino to start! The Cowboy and I each ordered a different wine and our server was nice enough to give us each two glasses so we could each have a half glass and try both. Loved it!
Eggplant chips for our first snack. So, so yummy. Served with a yogurt sauce and pomegranate molasses.
Course 2: lamb meatballs. Not pictured because we couldn't wait to dig in! They were amazeballs (see what I did there?!)
Not pictured: course 2 of wine featuring 2 different picks from The Cowboy and I.
Third course: lobser nachos. I have no words. They were so, so good. Everyone I've talked to always recommends the lobster nachos, so they were definitely on my radar. The Cowboy isn't normally a fan of lobster, but I played the birthday card (heh) and won. The Cowboy was pleasantly surprised. Mmmmmm
Course 4: seared chorizo. If someone put a gun to my head and forced me to choose my favourite course of the evening, I'd probably pick this. It was delicious. (The lobster nachos would come in a very close second!).
Moving on to dessert…….
Citrus creme brulee for The Cowboy, with pistachio shortbread. Mmmmm
Sticky date cake for me!
And what would dessert be without some dessert wine?!
A port flight for him and a dessert wine flight for the birthday girl! I had some of the most ridiculously amazing dessert wine ever!
I'm counting the days until we can go back. Quick, someone name a special occasion!
***
All images taken with our new and totally awesome Nikon J1
See more WIAW posts here
Read More