Posted by Ange in cowgirl cooking, cowgirl moments | 44600 Commentshttp%3A%2F%2Fwww.justtheurbancowgirl.net%2F2012%2F04%2Fwhat-i-ate-wednesday-week-3%2FWhat+I+Ate+Wednesday%3A+Week+32012-04-19+02%3A53%3A30Angehttp%3A%2F%2Fwww.justtheurbancowgirl.net%2F%3Fp%3D4460
What I Ate Wednesday: Week 3
A bit late of a post again this week – I was caught up in watching hockey and attempting to get to bed at a decent hour last night as I had to be at work at 7:30 this morning. Sure, that's normal for some people, but I've really been struggling with mornings lately……..probably because I get kitten cuddles when I'm in bed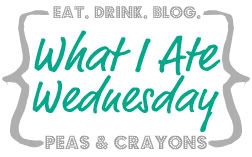 Breakfast:
Coffee. Always coffee. I'm still in the horribly, horribly BAD habit of buying coffee instead of bringing coffee with me. We own TWO coffee makers! Resolution upon return from Houston: MAKE COFFEE AND BRING IT TO WORK!
Blueberry bread with PB. I bought this on a whim last Friday because it sounded good – when I got home I realized this cost me $12!! TWELVE DOLLARS for blueberry bread?! Whoops. The Cowboy is MUCH better at price checking while grocery shopping than I.
Lunch-ish:
Tuesday was a strange day food-wise. Instead of eating a real lunch, I brought snacks with me. First up, baby carrots (which were kind of gross and tasted a bit like chlorine, ick)
And two turkey pepperoni sticks for some protein staying power.
Lunch #2:
The above snack held me over until about 2pm, at which time I decided I should eat something lest I run out of energy at the gym, or be too hungry to attend class! 0% greek yogurt with hemp granola and dried cherries. Yum!
And a diet Dr Pepper to help with the afternoon slump. I'm working on cutting back on the caffeine…….Slowly…….
Followed by a water chaser to rehydrate for the gym! Water is SOOOOO important for weightloss!
Dinner:
After a HARD workout at the gym (60 minutes on the step – no stopping!) I was ready for dinner. This dinner was SO GOOD and SO FILLING. I only ate half my chicken and used the rest in my salad for lunch today. Mmmmmm.
Wine, since it was national Malbec day. The Cowboy couldn't easily locate a Malbec (I'm sure we have one or two bottles hanging around in the house) but we decided a Merlot was close enough!
Evening Snack:
Not pictured because I don't know why. I'll blame it on hockey
Tea and a thinAddictive package because I needed a l'il something before bed
Find other What I Ate Wednesday posts here