Posted by Ange | 44061 Commenthttp%3A%2F%2Fwww.justtheurbancowgirl.net%2F2012%2F04%2Fwhat-i-ate-wednesday-week-2%2FWhat+I+Ate+Wednesday%3A+Week+22012-04-11+22%3A51%3A55Angehttp%3A%2F%2Fwww.justtheurbancowgirl.net%2F%3Fp%3D4406
Posting late today because I got in late last night and didn't wake up early enough to download images before heading to work. I'm trying really hard to limit my internetting during work hours!
Today's WIAW is brought to you in two parts.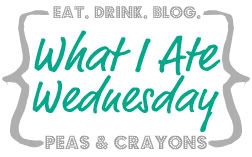 Part 1: Our deeeelicious Easter dinner from Saturday that involved NO COOKING on my part
We had friends over on Friday and had about half a bottle of wine left on Saturday, so we each enjoyed a big-ish glass with our dinner. Saturday = okay to have some wine! Yum!
Our menu for Saturday. I was some how undercharged for the dinner – $14.99 each instead of $21.99 each. Good deal!
Soup to start. So yummy! We could just taste that it was full of veggies.
Course 2: salad. Personally, I like my salad's a bit more veggie heavy, but I won't complain about a salad that includes brie!
The Cowboy's main – ham, scalloped potatoes and veg.
My main. I was originally skeptical about reheating the salmon, but it didn't dry out at all it was SOOO GOOD!
Somehow we each still had room for dessert  – eaten while watching the Canucks play the Oilers and win the President's Trophy on the way to the Stanley Cup playoffs. Go Canucks Go!!
***
Part 2: My eats from Tuesday, April 10.
Breakfast
Teeny tiny glass of OJ to pump up the blood sugar before rushing out the door.
Coffee upon arriving at work. Mmmmmm. Coffee.
President's choice 0% Greek yogurt with honey and a bit of granola. I tend to go on kicks with breakfast and I've been rocking the Greek yogurt for MONTHS.
Lunch
Leftover taco salad mix eaten as chili
Green tea. LOVE the green tea!
And a bun on the side. I would have preferred whole wheat, but this is what we had – and I'm trying REALLY hard not to waste any food!
Snack
Extra hydrating coconut water. I've been getting calf cramps at the gym lately, so I'm trying to increase my hydration and potassium – coconut water is perfect for this!
Dinner
The Cowboy and I met up at Double Zero Pizza for dinner as we had tickets for a concert. Lucky us it was $5 wine, beer and bar sized appetizers for 30 minutes when we arrived. Of course I ordered a glass (okay two) of wine!
Appetizer 1: shaved speck. It was amazing. So, so yummy!
Appetizer 2: marinated beats, with cheese and spinach. Again, deeelicious!
Main course: pizza – of course! We went with the salami – topped with goat cheese and olives. A super yummy dinner
Find other What I Ate Wednesday posts here
Read More